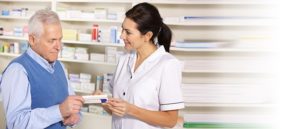 What does Medicare Part D cover?
Each plan that offers prescription drug coverage through Medicare Part D must give at least a standard level of coverage set by Medicare. Plans can vary the list of prescription drugs they cover (called a formulary) and how they place drugs into different "tiers" on their formularies.
How do I get Medicare Part D?
Medicare prescription drug coverage is an optional benefit offered to everyone who has Medicare but is only available through private insurance companies.
There are 2 ways to get prescription drug coverage:
Medicare Prescription Drug Plan (Part D) – These plans (sometimes called "PDPs") add drug coverage to Original Medicare.
Medicare Advantage Plan (Part C) – Most of these plans include Medicare prescription drug coverage. You get all of your Medicare Part A (Hospital Insurance) and Medicare Part B (Medical Insurance) coverage, and prescription drug coverage (Part D), through these plans. Medicare Advantage Plans with prescription drug coverage are sometimes called "MA-PDs."
You may make these payments throughout the year in a Medicare drug plan:
Premium (may be included with your Medicare Advantage premium)
Annual deductible
Copayments or coinsurance
Costs if you pay a late enrollment penalty
Your actual drug plan costs will vary depending on:
The drugs you use
The plan you choose
Whether you go to a pharmacy in your plan's network
Whether the drugs you use are on your plan's formulary
Whether you get Extra Help paying your Medicare Part D costs
How can you get help to lower prescription costs?
---
Extra Help Program:
If you meet certain income and resource limits, you may qualify for a program called Extra Help from Medicare to pay for some or all of the prescription costs, premiums, deductibles, and coinsurance of Medicare prescription drug coverage.
Qualifying for this program also gives you the opportunity to change your Part D or Medicare Advantage plan with Part D through a Special Election Period.
---
Other ways to lower prescription costs:
Use generic drugs.
Consider using mail-order pharmacies.
Look into discount programs.
Find out if your state offers help paying for drug costs.
Find out if the company that makes your drug offers help paying for it.
We can help you find ways to lower your drug costs and assist you in applying for Extra Help. The income and resource limits change yearly and there are different levels of assistance.
---
Please call us for a FREE personal consultation so we can help you find ways to save 1-855-I-TURN-65 (1-855-488-7665) or 503-691-2978.
---
Attention Pharmacists: We are also available as a resource for you – if you have a customer that needs assistance with enrolling in a plan with prescription drug coverage, has questions about plan options that may cover their prescriptions at a lower cost, or might be a candidate for Extra Help, please refer to them to us. We can save you time and your customer will be grateful for being referred to such a valuable resource.