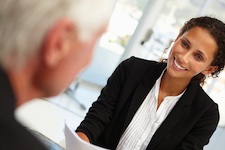 We partner with Human Resource Personnel to help you prepare current and retired employees who become eligible for Medicare. We are available as a resource on all issues pertaining to Medicare and can help your retirees determine when they need to enroll and what is required, especially since Medicare has enrollment timeframes and penalties. Additionally, COBRA is not considered credible coverage because it is not based on active employment.
One of the ways for companies to reduce health insurance premiums is to utilize Medicare options.
It usually makes sense from a business standpoint to re-evaluate and explore alternative ways to deliver superior health care coverage to current and retired Medicare eligible employees. Often, once all the benefits and costs are analyzed, companies and their eligible insured are in a far better financial position if changes are made. Research on a plan-by-plan basis is the key.
Moving eligible employees and retirees from the company group plan to individual Medicare plans is a viable solution. They, and their spouses if eligible, are able to take advantage of the competitive individual Medicare insurance options, where the premiums and benefit choices are an individual decision and is based on their particular health care needs. Many Medicare options include additional benefits like vision, hearing, dental, acupuncture, and naturopathy.
We specialize in Medicare plans and have worked with thousands of clients that need help with reviewing their options. We can be a resource to you for your employees nearing retirement or help ease the burden of transitioning those impacted by downsizing. We offer Medicare informational seminars, educational materials, personal consultations, and annual reviews, all at NO COST.
Choosing to do business with us gives your company extra HR assistance at no cost, more choices for your retirees, and a trusted partner with years of experience in insurance and Medicare.
Please give us a call so we can discuss ways to partner and provide valuable service to your Human Resources team and employees 1-855-I-TURN-65 (488-7665) or 503-691-2978.